The CNN Freedom Project
CNN started this project called "The Freedom Project" to help in stopping human trafficking and modern day slavery. The project was launched march 2011 and I have been following their progress closely. I'll be sharing some of the interesting facts using CNN's own charts. 
This year CNN will join the fight to end modern-day slavery and shine a spotlight on the horrors of modern-day slavery, amplify the voices of the victims, highlight success stories and help unravel the complicated tangle of criminal enterprises trading in human life.  CNN
Definitions
Forced labor, bonded labor, slaves, human trafficking - a broadly accepted definition of what modern slavery encompasses has been elusive. There are many horrible stories of abuse, but not all can be considered slavery. Here is the definition CNN is using to make that determination:
"Slavery occurs when one person completely controls another person, using violence or the threat of violence to maintain that control, exploits them economically, pays them nothing and they cannot walk away."
What about human trafficking? Human trafficking is defined in the U.N. Trafficking Protocol as "the recruitment, transport, transfer, harbouring or receipt of a person by such means as threat or use of force or other forms of coercion, of adbuction, or fraud or deception for the purpse of exploitation."
The definition on trafficking consists of three core elements:
1) The action of trafficking which means the recruitment, transportation, transfer, harboring or receipt of persons
2) The means of trafficking which includes threat of or use of force, deception, coercion, abuse of power or position of vulnerability
3) The purpose of trafficking which is always exploitation. In the words of the Trafficking Protocol, article 3 "exploitation shall include, at a minimum, the exploitation of the prostitution of others or other forms of sexual exploitation, forced labor or services, slavery or practices similar to slavery, servitude or the removal of organs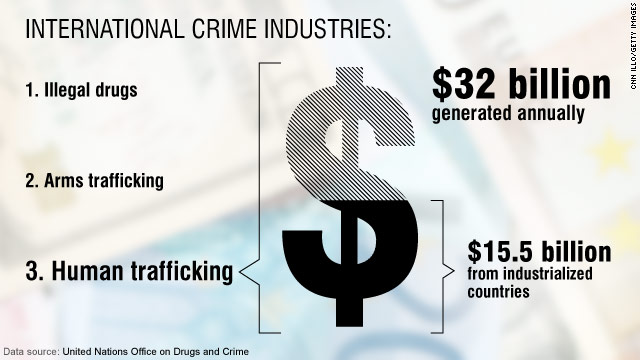 Ranking behind illegal drugs and arms trafficking, human trafficking is estimated to be the third largest international crime industry, according to the United Nations Office on Drugs and Crime.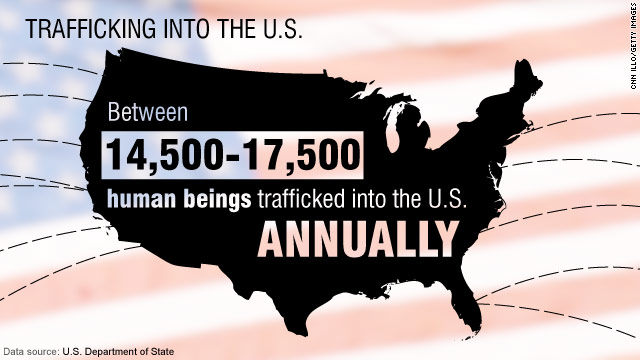 Between 14,500 and 17,500 people are trafficked into the U.S. each year, according to a 2005 report from the U.S. State Department.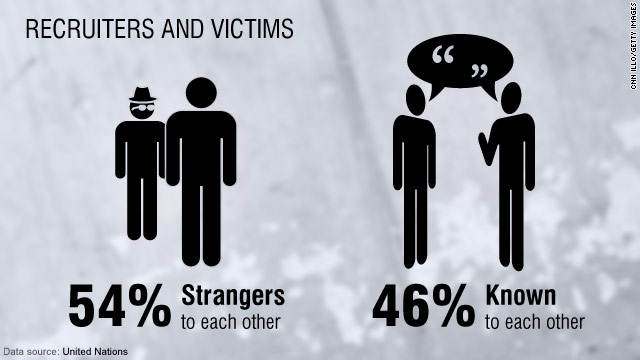 According to a United Nations report, the recruiter in 54 percent of human trafficking cases was a stranger to the victim. In 46 percent of the cases, the recruiter was known to the victim. The U.N. report said that the "majority of suspects involved in the trafficking process are nationals of the country where the trafficking process is occurring.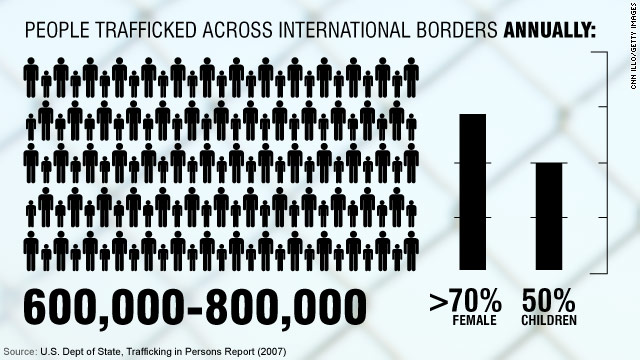 Globally, some 600,000 to 800,000 people are trafficked across international borders each year, according to a 2007 report from the U.S. State Department. Of that number, more than 70% are female and half are children. However, a 2009 United Nations report stated that around 20% of all trafficking victims are children.
Source: